A few weeks ago I sent off five of my postcards to participate in the 2012 liberate your art postcard swap and for the last couple of weeks I have been receiving the most amazing pieces of artwork back. Kat Sloma has done an amazing job of linking 193 artists from 11 countries together and I am so glad I participated, wow people are so talented! It is also fantastic to receive something in the mail and to take time to look and read. I highly recommend taking part next year and do have a look at the amazing video Kat made by clicking on the link below.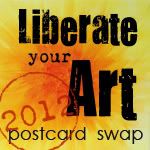 The amazing piece of art in the top left hand corner is by Lorinda, I wish I could paint, her website is wonderful, full of her great artwork.
I keep staring at this fantastic photograph of ice cream, I even want the dish it is in! Christina Martin is my new favourite photographer, so talented, her words on the card were "on our own we glitter..together we shine" so cool don't you think?
On the right we have yet more amazing artwork from Dolly Johnson another seriously talented artist, this is one amazing stamped collage made from vintage ephemera.
Don't you just love that dog! Darlene sent me this photograph of her dog Precious, such great photographs on her blog.
The amazing Kat not only organised the swap but also had time to send everyone one of her beautiful photographs too, such a perfect composition, makes you want to climb up those steps.
Last but not least Christine sent another piece of art from her postcard collection, so very cool don't you think?
Here's to liberate your art 2013, see you there.